Staffordshire-based bathroom manufacturer Silverdale Bathrooms is thrilled to announce the launch of a brand new website this September. The all-new website reflects the current company vision and future of the brand, providing an improved experience for the companies' global customer base.
The new home of Silverdale Bathrooms showcases exciting news, updates, products, collections, and much more, on an innovative, stylish, sleek, and user-friendly website. The revitalised site not only gives consumers a fresh look into Silverdale's products, but the launch of the news section of the website is a great way for the company to connect with customers by providing updates and features with tips on bathroom design.
General Manager, Abigail Walley, says: "We've worked hard to create a website that not only reflects our aesthetic and what we represent as a luxury, global brand, but one that honours our heritage and home here in Staffordshire.
"We wanted to give customers a more rounded experience when engaging with our brand, so in addition to the collections and brochure being featured, we have introduced our 'In The Tub…' section where you'll find exciting news, blogs and features to help with design ideas and to pick up bathroom tips and trends – as well as all the latest Silverdale Bathrooms updates.
"We've also created a more in depth 'Our Story' section so customers can learn the history and heritage of Silverdale Bathrooms. We're excited at where we are heading, but our heritage is a part of who we are and what makes our products so special. We will always celebrate this.
"This fresh site provides an all-round experience for customers with products, collections, tips on planning and design, colour choices and styles all in one place, to make it easy to create a bespoke bathroom."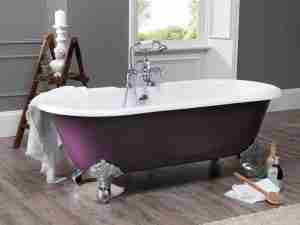 This latest development for the brand comes following its partnership with Hotel Suppliers, the global hotel products and hotel supplies store and the hotel industry's number one directory of Hotel Supplies, at the start of the year,  giving the traditional bathroom specialists the opportunity to reach tens of thousands of hotel operators, owners, managers and buyers worldwide.
Silverdale Bathrooms is a specialist in high quality, handmade ceramics and is one of the few remaining bathroom manufacturers in the UK. All its sanitaryware is produced by hand by skilled craftsmen at its 35,000 square meter factory based in Silverdale, near Stoke-on-Trent, Staffordshire, in the heart of the English Potteries. The quality craftsmanship takes influence from the historic industry of ceramics in the area, yet the quality has garnered a global customer base.
The Silverdale range comprises of six exclusive suites, inspired by the details and lines prevalent in the Victorian and Edwardian eras, as well as the architecture, furniture and artistic constructs of the Art Nouveau and Art Deco movements. Silverdale also markets a range of complementary products, such as baths, brassware, including taps and mixers, and accessories, which are supplied by brand partners who share the same values of quality and integrity.